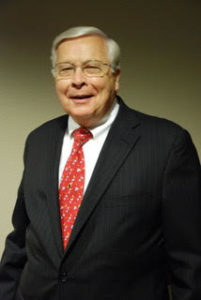 A member of Toastmasters International since 1954, Donald J. Hunt of the South Plains Club in Lubbock, Texas, passed away on Wednesday, January 11, 2017.
Born on June 22, 1934, Don discovered a love of speech and debate while attending McMurry University in Abilene in the mid 1950s. He earned his license to practice law in Texas in 1961.
As a talented teacher and mentor, Don worked with many Toastmasters and helped them to develop the communication and leadership skills that led them to our organization. His success as an attorney also led him to become the faculty adviser to the to the trial and appellate teams at the Texas Tech University School of Law in 1974. In honor of his 34 years of contributions to the Law School, in 2008, the school opened the Donald M. Hunt Courtroom, a high tech courtroom.
Don's service to Toastmasters and the field of law will long be remembered.