Cliff Colvin, DTM, joined Toastmasters for the reason most guys do anything. He was trying to impress a girl.
Now, he's married to that girl, and he's still in Toastmasters impressing everyone else who knows him.
Colvin, a Lubbock resident, grew up in nearby Post Texas. He is a software development manager for Tyler Technologies in Lubbock. He leads a team of 10 software developers to serve over 850 municipal courts nationwide.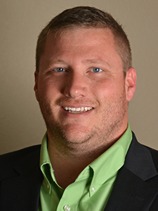 He has served throughout the district in various leadership roles and will spend this year as District 23's Club Growth Director. The position is entrusted with growing new clubs within the district while helping grow and retain membership for long-standing clubs.
Colvin, who helped organize the 2015 fall conference with his wife Taryn, would like to say he's best known for his high energy. But it's more realistic, he jokes, that people know him as the guy who talks too much.
Colvin said much of his motivation comes from dealing with open-heart surgery when he was 11. Facing the real possibility of death, he said, made every moment thereafter more precious.
"That, obviously, changed my life forever in a positive way," Colvin said. "You know every moment is not a given. You have to take it when you can get it."
His home club is Llano Estacado Toastmasters.
How did you find out about Toastmasters, and what brought you into that first meeting?
I worked closely with Tracy Thomason, and I was always impressed with his ability to communicate.
My girlfriend at the time was interested in going, so we went together.
What brought you to the second meeting?
I really enjoyed the ability to just get in there and try out things without the fear of failure. That's probably semantically incorrect, but that was it … being able to do the things without fear, both from a speaking perspective and a leadership perspective. I became most interested in the leadership areas. That's the line I'm in at work. Finding ways to amplify that has been my niche area.
How are you using your Toastmasters skills outside of the organization?
I use them every day between learning how to evaluate better and give feedback to peers and team members who report to me, to learning to set boundaries and focus on the most important thing. Not to mention, being able to articulate a message well helps.
What was the light-switch moment where you saw the things you were doing in Toastmasters had a tangible effect on what you did outside of Toastmasters?
In my Area Director year, I really began to understand the need to focus my efforts and set boundaries so I could get things done. Not all things could be done at once. That was a huge revelation for me, both in my career and in Toastmasters.
If you could go back to that first TM meeting, what would you tell yourself?
Stop saying "Um." Another way to put that would be to think before you speak. I always took the deeper meaning of that. But in Toastmasters, it's a matter of gathering your thoughts.
Goal for the office this coming year?
I have a lot of different goals. One is to engage more members throughout the district into various leadership roles in the district and get them more engaged in the club-building process. Another might be to drive commitments to achieving your Distinguished Toastmaster. I've been looking at statistics and the years where we achieve large numbers of DTMs the district does well. When we don't, we don't.
Featured photo credit: Amber Marsh, DTM