Did you know that individual members and clubs can earn rewards for bringing new members into the Toastmasters family, getting clubs to Distinguished, earning educational awards, and more?
Check out the list below and find an incentive that you, your club, or your fellow members can earn!
Smedley Award – Club
Clubs gaining 5 or more new, dual, or reinstated members between August 1, 2017 and September 30, 2017, will receive a Smedley Award ribbon from Toastmasters International along with a 10% discount to the Toastmasters International store. This award is presented by Toastmasters International and the club president will be contacted directly by mail.
Update July 28, 2017: Stay tuned for more Smedley Award Incentives coming soon from District 23!
New Club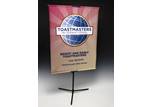 All new clubs chartered between July 1, 2017, and June 30, 2018, will receive a new club banner customized with their name, city, and club number.  District 23 will order the banner as quickly as possible after the charter is official and deliver the banner shortly after it arrives. Banners can take 6 to 8 weeks to be delivered. If possible, a district officer will deliver the banner during the club's charter ceremony. The stand shown in the photo is not included and may be purchased separately.
Talk Up Toastmasters – Club
Details coming soon. Contest period is February 1, 2018, to March 31, 2018.
Beat the Clock – Club
Details coming soon. Contest period is May 1, 2018, to June 30, 2018.
Incentives for Individuals
Coffee For Club Closers
Any member who submits a qualified new club lead will receive a $10 Starbucks Gift Card (or $10 TI Gift Certificate if preferred). Click Here to Submit https://goo.gl/forms/6CQcVCnmcRUaM36D3
Any Lead that turns into a Demonstration Meeting with 30 or more guests (submit photo) will receive a Toastmasters Travel Mug, AND a Coffee Gift Pack. Submit Here https://goo.gl/forms/yJridCZKbxl9XALb2
If your new club charters by April 30, 2018 Club Growth Director Cliff Colvin (or a district representative) will bring a coffee and doughnut party to your new club to celebrate!
Triple Crown
Earn three or more educational awards (including an HPL) between July 1, 2017, and June 30, 2018, and you'll receive a Triple Crown pin from District 23. Award will be delivered at a District 23 conference, TLI, or by mail. If you've earned your Triple Crown and will be attending an upcoming TLI or conference, contact the district officers here to make sure you receive your pin.
Distinguished Toastmaster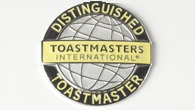 Earn your DTM between July 1, 2017, and June 30, 2018, and you will receive a DTM Medalion and a new DTM name badge from District 23. You'll also be recognized at the first conference after you receive your DTM. Medallions and name badges will be handed out at the next conference after you receive your DTM. If you are unable to attend, they will be shipped to you.