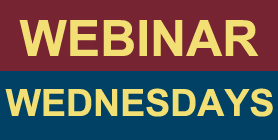 Wednesdays are Webinar Wednesdays in District 23! At least one Wednesday per month we'll have some kind of online training that will benefit you and your club.
Check out past recordings (and their handouts if they had any) below on the left. And peruse the calendar of upcoming events below on the right. When you find one you want to sign up for, expand the event (click the+) to find a registration link. Sign up and you'll be emailed a link to the actual event.  Please note that all times listed for webinars are listed in Mountain time.
Upcoming Webinars
There are no upcoming events to display at this time.